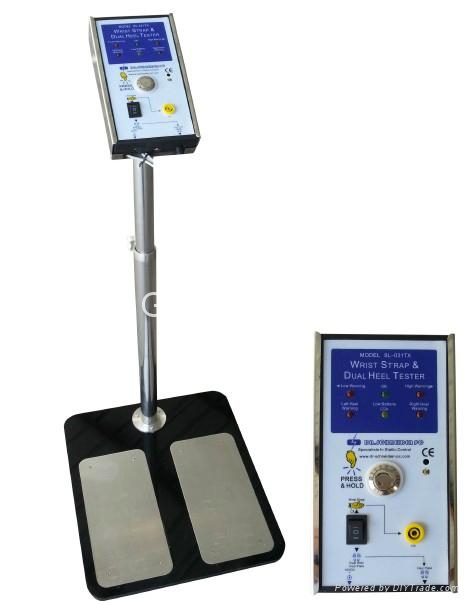 Cambo Resistance Tester SL-031TX
Model No.︰
SL-031 TX
Brand Name︰
Dr. Schneider PC
Country of Origin︰
China
Unit Price︰
US $ 530 / pc
Minimum Order︰
1 pc
Product Description
INTRODUCTION
Get the performance of a state-of-the-art tester for a cost-effective price. The 780/781 Economy Combo Tester will individually
and simultaneously test each wrist strap and heel grounder for proper connection and resistivity values in less than three seconds.
With speed, ease and clarity, colored LED shows test results. No computer is necessary for pass/fail testing so you don't pay for
features you don't need.
FEATURES
· Tests wrist strap and heel grounders individually and simultaneously
· No switch flipping or foot changing
· Automatic calibration
· Measures from 105ohms (100 kilohms) to 108 (100 megohms), with an option to 109 (1000 megohms)
· Conforms to US EOS-20/20 standard and European standards
· Adjustable resistivity limits
· NIST-traceable calibration certificate included
· AC or DC powered
· OK, failure warning, and low battery LED display; buzzer sound
· Can be mounted on the wall or used on optional heavy-duty stand
SL-031TX includes Tester and Heavy Duty Footplate
SPECIFICATIONS
· Display: red, yellow, and green LED with buzzer sound
· Accuracy: ± 15%
· Weight: 1.0 lb (454 g)
· Environment: 32°F to 100°F (0°C to 38°C); 15% to 95% RH.
· Testing Range: 105- 108ohms
· Wrist Straps:
o High Range: 2M, 5M, l0M, 25M, 35M, 50M, 75M, l00M ohms
o Low Range: 500k, 750k ohms
· Footwear:
o High Range: 2M, 5M, l0M, 25M, 35M, 50M, 75M, l00M ohms
o Low Range: 500k, 750k ohms
Payment Terms︰ TT
Related Products