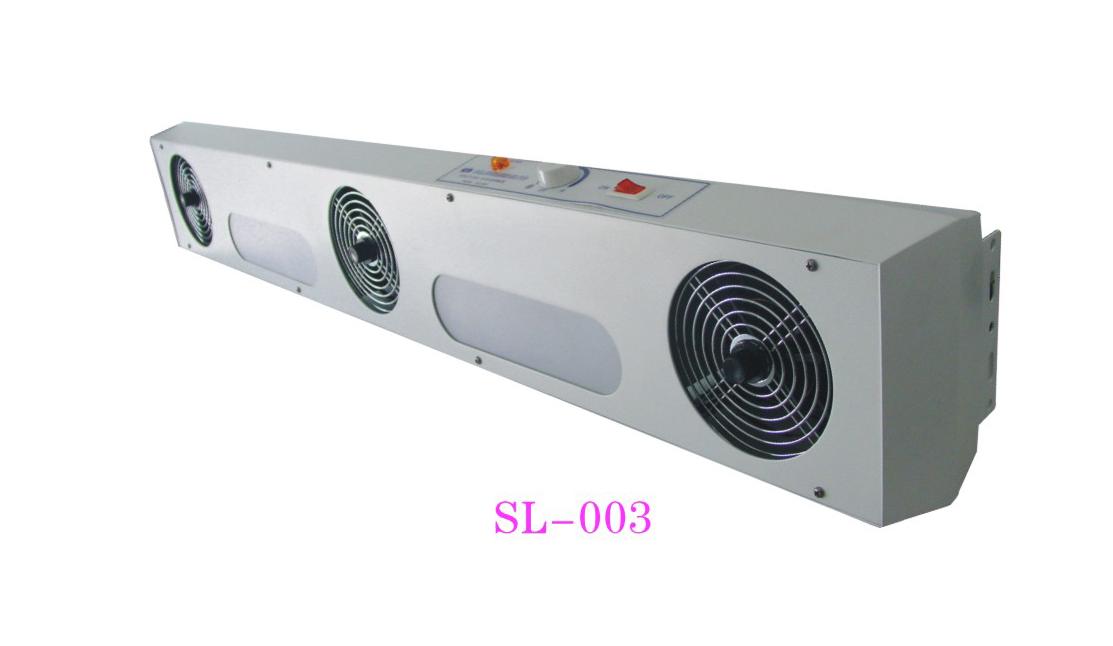 Dr. Schneider PC Overhead Ionized Air Blower
Model No.︰
SL-003
Brand Name︰
Dr. Schneider PC
Country of Origin︰
China
Unit Price︰
US $ 200 / pc
Minimum Order︰
1 pc
Product Description
Line Voltage 220VAC/ 50 Hz or 110VAC / 60Hz
Current Consumption Max.1.25 Amp (fan high, light on)
Min.0.62 Amp (fan low, light off)
Air Volume Output Fan speed Flow
Low 120 CFM
High 330 CFM
Air Flow Characteristics 40cm×120cm Area Coverage
Light Output 1650 Lumens Total.
Replacement Lamp 13-15 Watt Energy Saving Fluorescent
Operating Temperature 32ºF(0℃)~122ºF(50℃)
Enclosure Aluminum
Finish Powder Coat
Size 1100mm(L)×170mm(W)×125mm(H)
Optional Air Filter 30PPl Open Polyurethane Foam
Ion Balance(offset voltage) 0V+/-10V(It requires no calibration)
ION OUTPUT (DISCHARGE TIME):
Testing condition

Temperature 22℃±5℃

RH: ≤60%

Distance: 300mm, centre line, High Speed

Decay time

positive

1.1s

negative

1.2s

Offset voltage

-10V-+10V
1. Distance measured in mm, decay time measured in seconds.
2. Test data available using ME 268A charge plate analyzer.
3. Test figures are subject to the variation in the atmospheric
conditions.
4. Discharge times are in seconds from 1000 volts to 100 volts.
Payment Terms︰ TT
Related Products