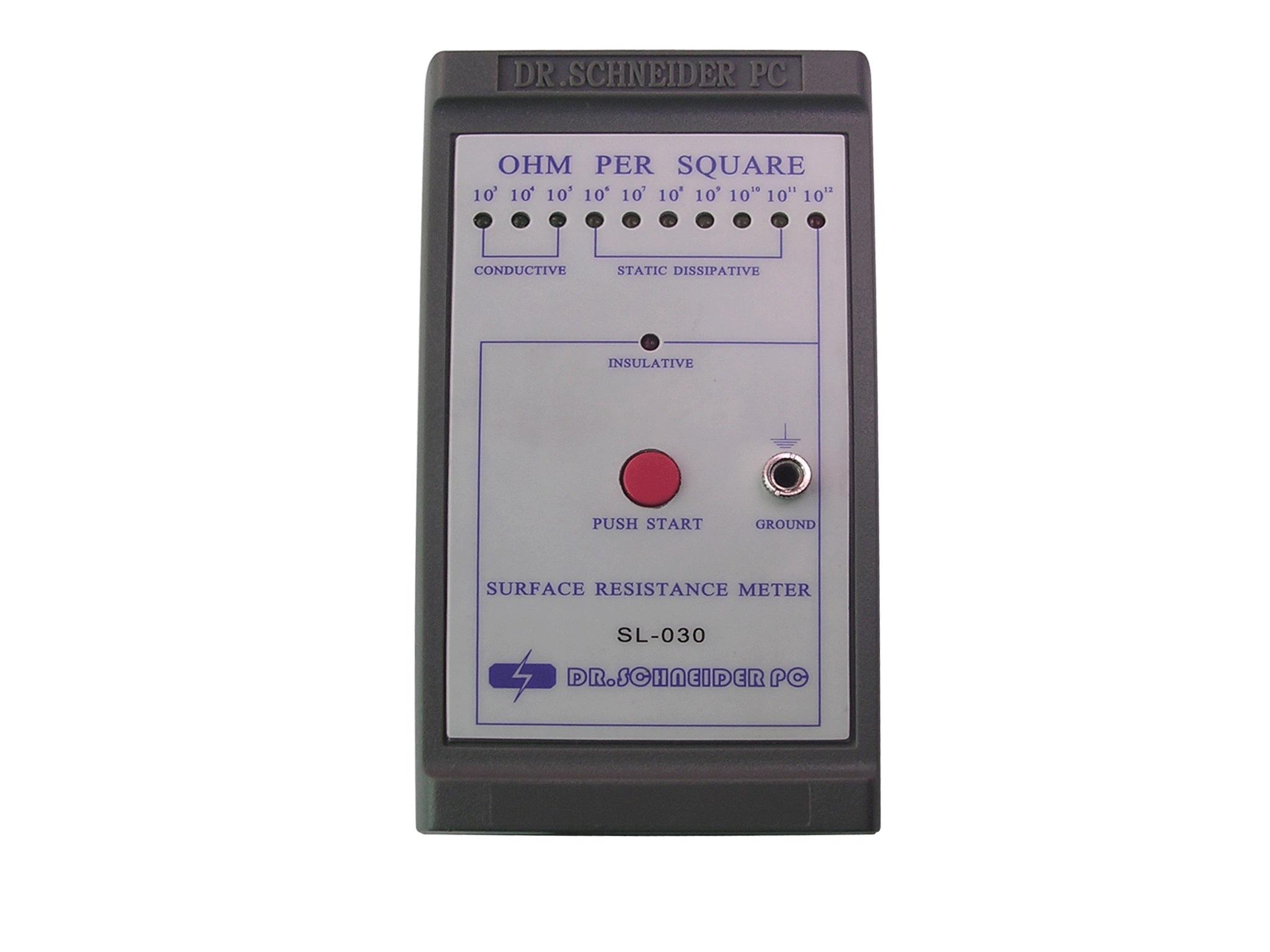 DR. SCHNEIDER PC Surface resistance meter SL-030
Model No.︰
SL-030
Brand Name︰
Dr. Schneider PC
Country of Origin︰
China
Unit Price︰
US $ 35 / pc
Minimum Order︰
1 pc
Product Description
SL-030 Surface Resistance Meter
SL-030 is an ultra wide-range, battery operated, portable instrument for measuring Surface Resistivity of virtually any flat surface conforming to ASTM D-257 standard by using recommended parallel bar sensing probe. In the circuit industry, products such as packaging materials, ESD shielding bags, work bench surfaces, static dissipative table and floor mats, conveyor belts, etc, have resistance values which need to conform to stringent specifications, Moreover, these values are expected to fall with in specified limits. The Surface Resistivity Meter can play a vital role in monitoring and checking the resistivity characteristic of the above items.
Specification:
| | |
| --- | --- |
| Operating Temperature | 0℃-50℃ |
| Relative Humidity | 0%-80% RH |
| Test Voltage | 9 volts |
| Size | 137(L)×76(W)×30(D)mm |
| Weight | 120g |
| Accuracy | ± 1/2 decade |
| Repeatability | ± 5% |
| Measurement Range | 103-1012 ohms per square |
| Resolution | One decade |
| Indication | Visual by LED'S |
| Test Actuation | ON / OFF Switch |
| Power Supply | 9 volt DC Battery |
| Calibration | Recommended every 12 months |
| Warranty | 12 months |
| Accessories include | 1m Grounding Cord & Carrying Leather Bag |
It also has unique additional feature of surface-to-ground measurement capability wherein the resistivity differential between any surface and any chosen ground can be determined.
The surface resistivity is conveniently indicated by a row of LED's covering a total of 10 decades from 103-1012 ohms per square.
Instruction to use:
Place the meter on the material to be tested and push the RED button in the middle of the unit. The unit measures the resistance between two electrodes on the back of the meter to determine surface resistivity, The LED that is lit, will indicate the surface resistivity in ohms per square.
Readings in Conductive Band
103= 1K Ohm
104= 10K Ohms
105= 100K Ohms
Readings in Insulating Band
1012= 1,000,000 Meg Ohms or greater
Readings in Conductive Band
106= 1 Meg Ohms
107= 10 Meg Ohms
108= 100 Meg Ohms
109= 1,000 Meg Ohms
1010= 10,000 Meg Ohms
1011= 100,000 Meg Ohms
Resistance to ground measurement
Plug the stereo plug of the ground lead into the jack marked GROUND on the side of the meter. Connect the alligator clip to a suitable ground point for the material to the tested. For table mats, this will be generally be the snap for the mats ground cord. Place the meter in the desired location and push the RED test button. The unit will measure the resistance from the electrode on the right to the ground point. RTG values are measured in Ohms.
Payment Terms︰ TT
Related Products