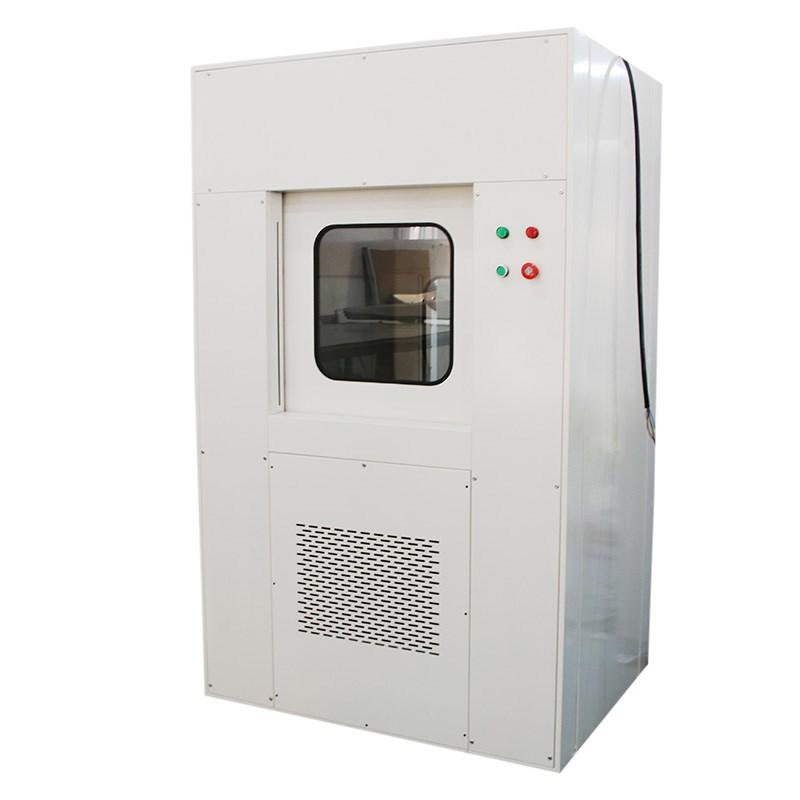 Lift type Clean Room Multifunctional pass box
Model No.︰
-
Brand Name︰
IONSTAT
Country of Origin︰
China
Unit Price︰
-
Minimum Order︰
1 pc
Product Description
Classification of lift window:
The lifting transfer window is divided into manual type and electric type, both of which are stepless lifting and can be stopped at any required position. Stainless steel manual lifting transfer windows are economical and economical, and stainless steel electric lifting transfer windows are more advanced and easy to use.
Lifting electric transfer windows and ordinary transfer windows are purification equipment that are installed in the clean area with different levels and the partition wall between the clean area and the non-clean area, and are used to transfer items to each other. According to the technological requirements of the production products, it can be made into air shower transfer windows and ordinary transfer windows. The air shower transfer window can produce clean high-speed airflow to blow the items when the items are delivered, remove the dust on the items, and make the clean room free from pollution.
Features of lifting electric transfer window:
Beautiful appearance and good sealing effect; the door adopts electronic interlocking or mechanical interlocking, and its performance is reliable; the inner wall is made of stainless steel plate, which is flat, smooth and wear-resistant, and has a seamless structure on the bottom; according to process requirements, buzzer and ultraviolet germicidal lamp can be selected Or accessories such as walkie-talkies.
Operating instructions for lifting electric transfer window:
The high-quality stainless steel shell is beautiful and elegant, the touch switch is convenient and durable, the fully electronic control is highly efficient and advanced, and the interlocking and anti-pinch (item) functions are designed to be humanized, and effectively cut off the pollution of particles and bacteria in the air.
Application range of lifting electric transfer window:
Lifting electric transfer windows are widely used in CSSD central supply rooms, aseptic distribution rooms, operating rooms, pharmaceutical factories, food factories, spraying workshops, scientific research rooms, clean rooms, etc., in hospitals of various sizes, which require higher indoor and outdoor environments with the same purification level. And the same pressure difference requires the transmission of small items in the area, reducing the number of door openings and reducing the degree of pollution in a closed place. The lift-type electric transfer window can be effectively prevented from being pinched because it is lifted by a motor. It is mainly used for the transfer of sterile items and is a better transfer window for hospitals.
Operating instructions for lifting electric transfer window:
1. With anti-pinch function;
2. With electronic button switch control;
3. Interlock function;
4. Built-in germicidal ultraviolet lamp;
5. Built-in intercom function, fast opening and closing in 3 seconds, can effectively cut off the pollution of bacteria and dust in the outdoor air, it only takes three seconds to rise or fall, and it is convenient and quick to transfer items. Built-in humanized voice interaction system, when When the interlock function completely separates the indoor and outdoor, through this function, the indoor and outdoor staff can communicate normally, and truly realize the seamless communication between indoor and outdoor. There is a gap of about 1mm between the fixed window and the movable window. When both windows AB are closed, the user can open window A or window B at will, but cannot open window AB at the same time. When one of window A or window B is open, the other side window is closed, thus realizing indoor Completely cut off from the outside.
Payment Terms︰ TT
Related Products